I'm so excited to let you know that there are
TWO
bloggers giving away So Sew Organized products this week! 2 giveaways...how much better can it get?
Here are the details and the prizes...
In conjunction with 6 other bloggers, my gal Danielle over at
Snippets of Inspiration
is hosting a giveaway that includes several exciting prizes, plus a whole week of fun summer-themed posts. One of the items to be won is a
So Sew Organized tablet sleeve
!
Click here to enter that giveaway and get involved in some exciting, Beat-the-Boredom summer fun!
The second giveaway is being held over at
Jenvy Accessories
, a fellow Etsian who has
her own lovely shop
with jewelry and other accessories. She is not only hosting a giveaway from my shop, but has also conducted
a fun little interview
with yours truly about how my shop came about and other random facts about me! It is a little incredulous to go over there and realize all that talk is about little 'ol me, haha!
Her giveaway is for one medium Floral Fusions tote: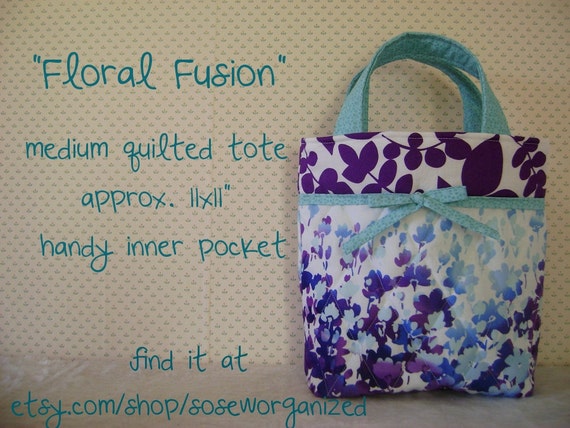 There are oodles of ways to get entries for this giveaway, and chances are if you are reading this many of you already qualify for several! Easy entries for you!
Click here to see how to enter this giveaway and own that pretty tote for yourself!
Just don't hold any of that info against me, ok? {wink!}
I'd love to hear if you enter, and which item you would prefer to win! Don't you just love winning new items? Good luck to all! =)